<![if !vml]>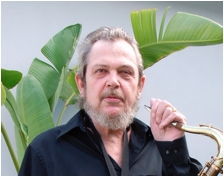 <![endif]>
Harry Hall
(September17, 1942 – November 2, 2014)
I did not know Harry, but when Dimitri-K informed me of his close friends passing, I felt his sorrow and great lost. We have lost so many of our jazz artists in the last few years. Even though not personally introduces, I may have seen him on stage playing with the greats. With a history of playing with The OJays, the Dorsey Orchestras, Refuge led by trombonist Bill Wartous and backed up Cab Calloway, Liberace, Eddie Fisher, Rosemary Clooney, Lionel Hampton, Celia Cruz and Chaka Khan. If I did not see him due to the distance and the crowd, I sure heard him.
Harry began his rich musical career in Los Angeles and in time became much more than a sax player. You always knew who the professionals were and Harry fit right in. If you were a true professional musician and played Saxophone, you played all (Soprano, Alto, Tenor, and Baritone) of them when required, no matter what your specialty was in. You played clarinet, flute and electrical portions of those instruments. You were a woodwind ensemble wrapped up in one person. Professionals like Harry invented multi-tasking before the word was even though of.
One of the beauties of life is that you get to leave portions of yourself to live on in your memory. Harry was no exception and was blessed with his marriage to Virlea Rodrigues that gave him three sons: Oliver, Anthony, and Abel.
Professionals like Harry leave their mark upon the Earth long after they are gone. Not only in the music they played, but the technique they used, the mentoring they formed with others, and the character and philosophy they projected where others saw and admired.
Someone once said, that if you were a friend to only one person on the Earth, then you were a friend to the Earth from which we all were born. Harry Hall was Dimitri's good friend, therefore with much pride and honor, never have met him, he was my friend too.
The following are Dimitri K's Harry Hall Collection Smooth Jazz tunes:
Bill Sommerville